You can sell tickets through our platform, accept cash and credit cards, and print/email your own tickets using our built-in Point-Of-Sale solution. There is NO charge for cash or check sales and there is no charge if you use Square, Clover or another external payment processor - they're free!

You keep 100% of the revenue you collect. For credit and debit card sales through our merchant process, we retain $1.75 + 3% + 3% (processing fee) of the total amount charged. Here's how that effects your ticket prices.
This article covers:
How It Works: Quick Sell
To use our simple interface:
Log into your account, click 'Sell Tickets' on the left, select the name of your event, and then click 'Quick Sell'.
Since we built this for large events, it works best with a laptop or desktop. We do not have a mobile app or tablet app available yet. And you couldn't process thousands of transactions on an iPad.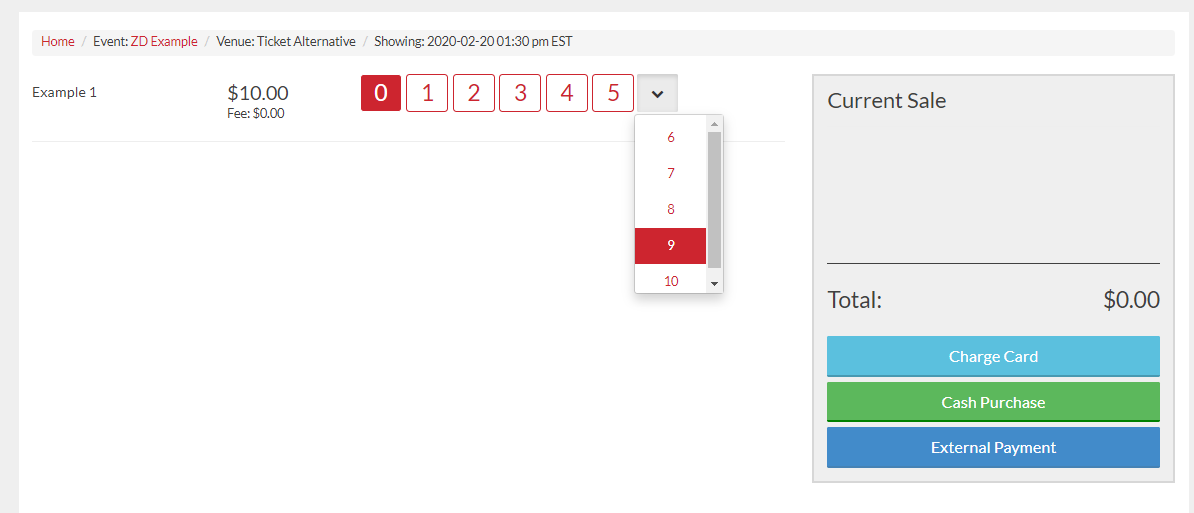 Select the number of tickets you wish to issue (You may need to create a box office ticket type or create a free ticket type first).
First Name (optional)
Last Name (optional)
Email Address (optional) -  enter the RECIPIENT'S email address, not your email address.

If you don't know the recipient's email address and just want to "put them on the list," leave the email field blank. (The system will create a generic email address.)

All Freshtix accounts are tied to an email address, so if you enter someone else's name and YOUR email address, all you've done is change the name on YOUR account.
Choose your payment method. The options are:

Charge Card
Cash Purchase
External Payment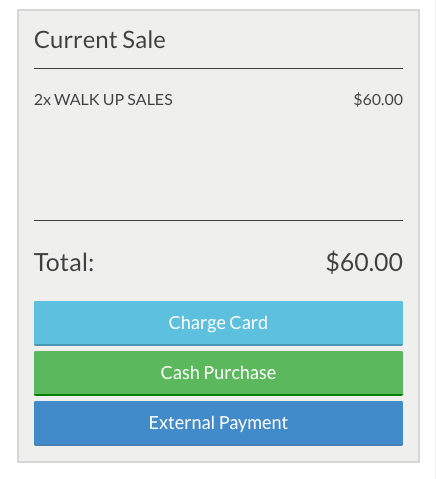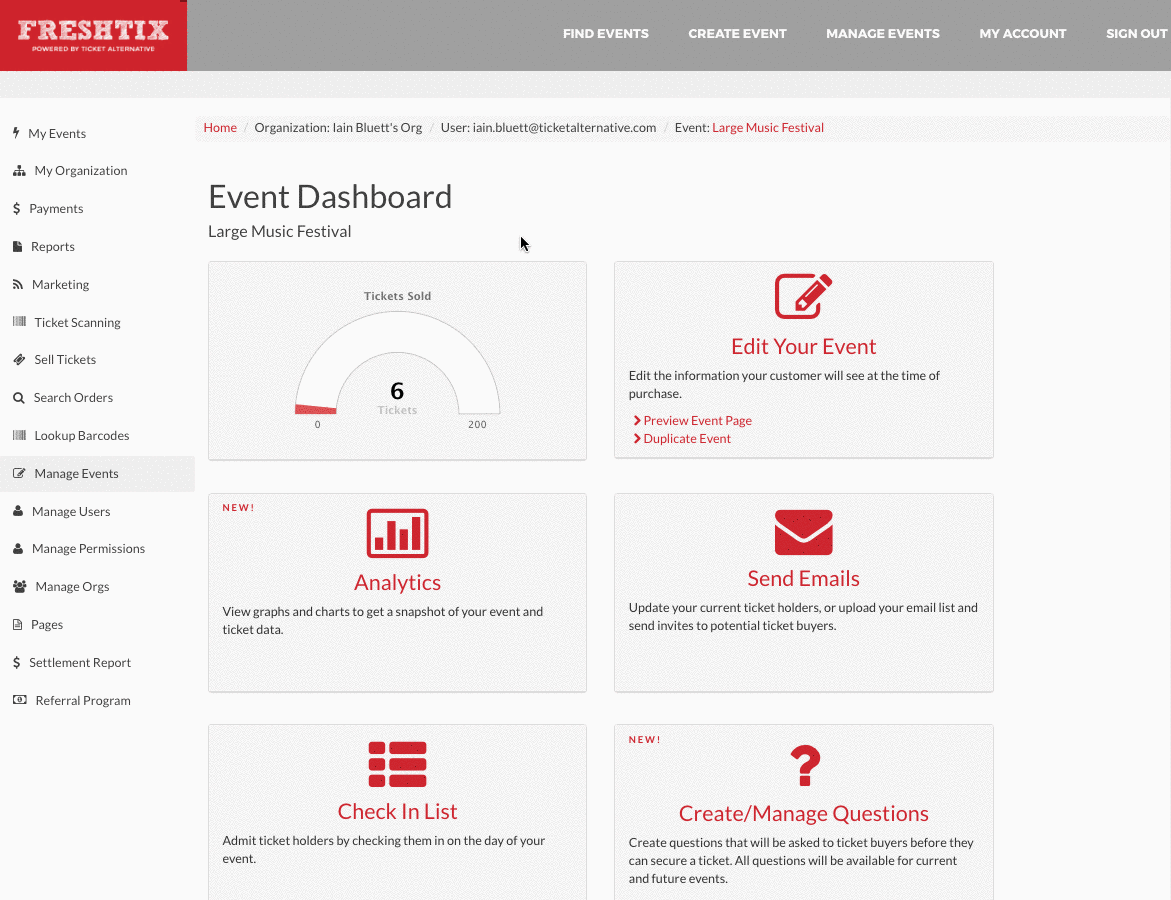 Cash Transaction: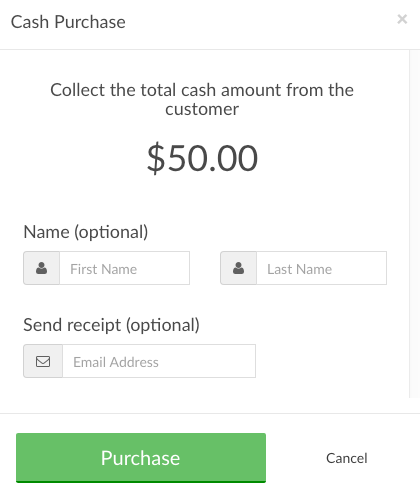 Credit/Debit Card Transaction:
After you swipe the customer's card, their first and last name will populate automatically. You can purchase a USB credit card swipe from us or use your own. The customer's zip code is required for credit card sales (but not for cash sales). The zip code must match what the bank or credit card company has on file with the cardholder or the sale will be declined. This helps you prevent credit card fraud.
If you need to enter the card number manually or would like to use a promo code you'll need to use the Full Box Office option. To do so, select 'Manage Events' at the top of the page, click 'Sell Tickets' on the left, select the name of your event, and then click 'Full Box Office'.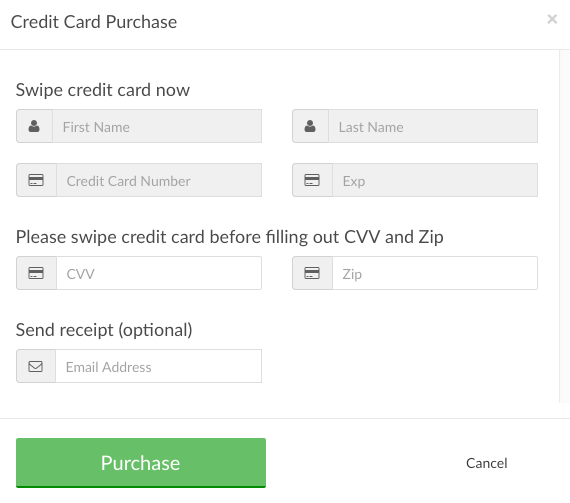 Ticket Printing and Delivery
After a sale is processed, the tickets are displayed on the screen and if you entered an email address they are also sent via email. The receipt and tickets are displayed as a .pdf that can be saved or printed. If you enable Auto Ticket Scanning, the ticket is automatically scanned after you make the sale.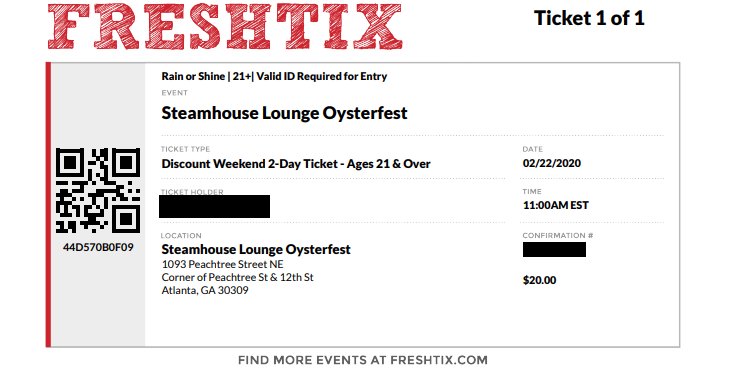 If you prefer to print tickets out at your box office instead, we offer two printer options: a Star Thermal Ticket Printer or a Boca Thermal Ticket Printer. For more information on ticket printers, check out our Ticket Printers article.